Ufo, Aliens, Ovni, Extraterrestrials, Uap, Jeremy Corbell, USS Omaha, Pentagon, Susan Gough, San Diego, Walter Molino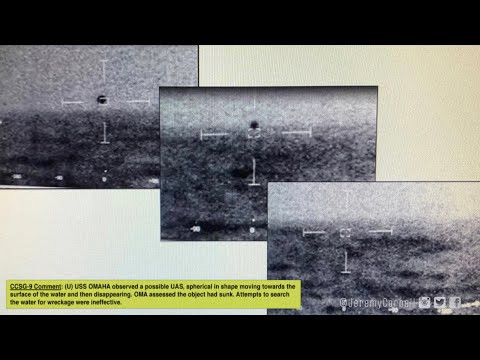 Having made the premise that I remain of my idea, that is that until they explain to us what certain objects are, each declaration leaves something unfinished (however interesting it may be), I take note and point out that the news of another admission arrives from the USA : the video released by documentarian Jeremy Corbell is authentic. What is it about? Of a video shot on July 15, 2019 by the military ship USS Omaha off San Diego that Corbell came into possession of. In the video we see a so-called "transmedia" object, or rather intercepted in two elements, in this case in air and in water. It is a sphere of hardly identifiable colors and materials that moves above the surface of the sea, then remains in "hovering" like a helicopter or quadcopter and finally disappears suddenly into the water. For the record, the object has never been found, but no wrecks have been recovered either, so it cannot be said that it disintegrated. The significant aspect is that Susan Gough, spokesman for the Pentagon, confirmed that the images "are real and that they were filmed aboard the military ship". This admission is a match for the recent one relating to pyramidal objects sighted by Navy aircraft, more or less in the same area (which seems very "hot"). In anticipating that in the next few days I will be able to announce another significant novelty – this is not a new sighting, but a step forward on the front of the communication of the so-called Uap phenomena – I return to the initial concept and to what I think: American gentlemen, of the Pentagon, the CIA or whoever you want, "baptize" these UFOs for good (are they alien aircraft, devilry of human military of some power, or objects that come from other dimensions?), otherwise finding yourself with these admissions is like buying a Rolex in a Chinese market. Translation: a I want but I can not.
After written: about sightings. If I manage to obtain the material from the RCS archive, I would like to offer you, perhaps in episodes, the historical covers of the Domenica del Corriere that Walter Molino dedicated to UFOs. Each cover is worth a story. To tell.
Tag:
aliens, extraterrestrials, Jeremy Corbell, UFOs, Pentagon, San Diego, Susan Gough, UAP, ufo, USS Omaha, Walter Molino